Finding Tucker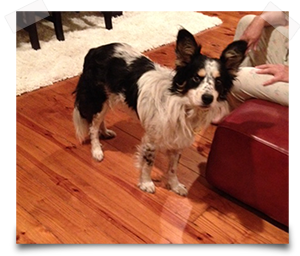 I know that this is such a busy time for you as you are ending down school and reflecting on the year. Never does a year in retrospect look exactly like you intended for it to look. We never accomplish everything we wanted to do . . . we never said all the things we wanted to say . . . we never . . . (you get the idea!)
There is an old saying that goes, "Everything is alright in the end, and if it is not alright . . . it is not the end." I was reminded of this Monday afternoon at the Houston SPCA. I had shared with you that I lost my precious dog, Baxter, in February. My heart was so full of grief for Baxter that I did not think I could love another dog. Well, you know what happened . . . Sunday I decided to go to the SPCA just to "look". I was still fighting getting another dog, but I thought, "What can it hurt to just look? It will take a long time, maybe never, to find the right one."
Well . . . and then I saw Liam! He was so cute, a little terrier mix and he had on a bandana! But still . . . I am not sure I am ready. We go outside together, we go to the "get acquainted" room together, he is precious! Still . . . I am not sure. I go home without him, but think of him all night and then at work I keep pulling him up on the SPCA website to look at him. As soon as work is over, I head to the SPCA only find that he has just been adopted! Now I realize that my heart is ready for another dog, but I just lost him. It is NOT alright! So just in case they are wrong, I walk through the kennels looking for him. No Liam. But as I came up to one of the last kennels I saw this pitiful little thing that looked so sad and he did not even walk up to the gate. His eyes followed me, but he would not move. Something about his face made my heart jump. He had recent scars on his leg, ear and face and his eyes had that look of wanting to trust but not having had experience doing so. Oh, and did I tell you he was heart worm positive? Tears rolled down my cheeks as I knew that it was unlikely that someone would take him . . . he needed me as much as I needed him. This was what was intended, it really does work out in the end!
You guessed it . . . Tucker lives with us now and is adjusting quite well to his new bed, prescription food, and constant "lovin"! Sometimes what we think is a bad situation (losing Liam) is only a precursor to the right thing (finding Tucker)! By the way, my brother says Tucker looks like he was put together by a committee!
Have a great weekend! And remember . . . it will all be right in the end!