---
Early Literacy Resources
available from Region 4 Reading/Language Arts
Questions about our resources? E-mail reading@esc4.net.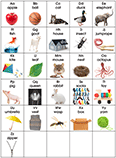 ALPHABET POSTER AND CHARTS SET
Tool for supporting letter names and sounds.
This resource serves as a tool for teaching letter names and sounds to support students on their journey in becoming successful readers and writers. This set can be used for whole-group, small-group, and individual literacy instruction. $30 each. Order online: English| Spanish
LETTER KNOWLEDGE MANIPULATIVE KIT - NEW!
Tools to deepen emergent readers' letter knowledge
This supplemental resource can be used for teaching letter knowledge in small groups. This kit is appropriate for use with emergent readers of any age who need additional support in letter identification, letter-sound correspondences, and letter formation. $100. ORDER ONLINE
---
Professional Development focused on Early Literacy
available from Region 4 Reading/Language Arts
Questions about our training opportunities? E-mail reading@esc4.net.
The Science of Teaching Reading - Virtual Series
This virtual series explores the importance of foundational literacy skills, including oral language, phonological awareness, print concepts, alphabet knowledge, phonics and word identification skills, syllabication, morphology, and reading fluency to literacy development. The course content is based on the Texas Science of Teaching Reading Framework (Domain II, Competency 003-007) and is intended to explore the concepts, principles, and best practices related to each literacy skill. This series may be used to further assist participants in preparing for the Science of Teaching Reading certification exam (STR 293), as a supplement to Reading Academies course content, or simply to improve content knowledge in the area of foundational literary skills for all educators , instructional coaches, and administrators in grades PreK-6.
Print Concepts and Alphabetic Principle
This interactive course explores the critical foundational literacy skills of print concepts and the alphabetic principle. In the class, participants will review the research, continuum of learning, high yield instructional practices, TEKS alignment, supporting second language learners, and concepts related to culturally responsive teaching. Learn more and register here.
Phonics and Other Word Identification Strategies
Learn all about phonics, including the six types of syllables, and other word identification strategies to help your growing readers and writers excel in word attack and spelling skills. Learn more and register here.
An Introduction to Syllabication and Morphology
This highly interactive course focuses on how to divide multisyllabic words into individual syllables to simplify reading and spelling. Participants will learn and apply syllable division strategies to break down larger words. Additionally, participants will explore the meaning units of words (morphology), including Anglo-Saxon, Latin, and Greek affixes, base words, and roots, to bolster vocabulary knowledge. Learn more and register here.
Reading Fluency
December 8-9, 2020
Reading fluency acts as the bridge that connects word identification skills to reading comprehension. In this course, participants will explore the importance of understanding the role of fluency in literacy development, TEKS alignment, high yield instructional strategies, progress monitoring, and using assessment to plan instruction. Learn more and register here.
Moving From Learning Letters to Learning to Read Series
Each session of the Moving From Learning Letters to Learning to Read Series can be selected individually. You can choose to participate in one, two, or all three sessions of the series and you can attend in any order.
Phonological Awareness
According to the Science of Teaching Reading, recognizing and manipulating sounds in words are very important to students' development of automatic decoding sounds which leads to learning to read. This session will focus on strategies for the early stages of phonological awareness instruction (sentences, syllables, rhymes, onset-rime) by using scaffolding examples for the classroom and ideas for teaching remotely.
Story and Language Awareness
To build good readers, we want to engage students in the story by emphasizing the language structure, meaning and organization. This session will explore ways to foster the development of storytelling, building vocabulary and language structure as they learn to read during face-to-face and remote learning.
Letters, Sounds, Words, Oh My!
Join us for this engaging session to learn effective methods for teaching letter-sound correspondence as we look into print awareness, a beginning stage of learning to read. We will explore ways for students to see how print works in order to build a foundation for early readers for face-to-face and remote learning. We will discuss various word walls, word meanings and simple sentences to allow for scaffolding support as we strengthen the students alphabet knowledge and concepts of print.
---
Questions about our resources or professional development opportunities? E-mail reading@esc4.net.