For more information about these resources, e-mail bilingual@esc4.net, or call 713.744.4457.
View upcoming professional learning opportunities.
---
ACCELERATED CURRICULUM FOR STRUGGLING READERS SERIES, SPANISH
A comprehensive accelerated reading program for small group instruction.
This comprehensive instructional program accelerates the learning of students who are at risk of failure or who need additional literacy support. It includes instructional components that can effectively transition students from struggling readers to actively-engaged students who read and comprehend text independently by promoting word-recognition strategies, vocabulary development, and reading fluency. Grade 2 | $625 | Grade 3 and Grade 5 | $300 per grade level. Student workbooks also available.
---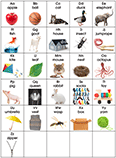 ALPHABET POSTER AND CHARTS SET, SPANISH
Tool for supporting letter names and sounds.
This resource serves as a tool for teaching letter names and sounds to support students on their journey in becoming successful readers and writers. This set can be used for whole-group, small-group, and individual literacy instruction. $30 each. ORDER ONLINE
---
EMERGENT READER SERIES, SPANISH
Development of important literacy skills for emerging readers.
A collection of resources to introduce students to valuable emergent reader skills. Each resource contains books intended to teach specific skills with follow-up activities for supporting and reinforcing new learning.
Vocabulary
—
A collection of books intended to introduce more sophisticated vocabulary for common words. Interest in learning new ways to say common words is fostered as young readers engage with patterned text, appealing graphics, and colorful photographs. $40 per version. ORDER ONLINE
Informational Text
—
Six books that focus on day-to-day routine school experiences. For reinforcement of each routine, the kit includes 23 guided practice cards and 23 reproducible take-home mini-books that support young students in learning about various school routines. $50 per version. ORDER ONLINE
Concept of Print
—
Six books for small-group modeling and instruction. Each book will concentrate on a specific concept of print. The concepts of print highlighted in the series are left-to-right directionality, return sweep, one-to-one speech-to-print matching, concept of a letter, concept of a word, and punctuation. $30 per version. ORDER ONLINE
---
HOME CONNECTION READERS, SPANISH
Connecting parents to the classroom through reading.
A collection of consumable books for emergent readers who are English learners receiving English or Spanish literacy instruction. The books contain simple sentence structures, ample picture support, and high-frequency words to promote strategic reading and to strengthen the home literacy environment. The collection can be used in a variety of other ways in the classroom. $100 per set. ORDER ONLINE
---
INTERACTIVE WORD WALL, SPANISH – NEW!
Display and review the words necessary for reading and writing.
Create interactive word walls that support reading and writing skills. Materials include alphabet picture cards, an instructional booklet, and high-frequency word cards. The instructional booklet provides ideas for setting up a word wall and creating nteractive learning opportunities to support reading and writing skills.$25 ORDER ONLINE
---
LETTER KNOWLEDGE MANIPULATIVE KIT, SPANISH - NEW!
Tools to deepen emergent readers' letter knowledge.
This supplemental resource can be used for teaching letter knowledge in small groups. This kit is appropriate for use with emergent readers of any age who need additional support in letter identification, letter-sound correspondences and letter formation. Available in English and Spanish. $100 per version. ORDER ONLINE
---
LANGUAGE ARTS AND WRITING TEKS CHARTS, SPANISH AND ELLA
TEKS at a glance: Time-saving Texas curriculum tool.
Each TEKS chart is a foldout with prepunched holes that fit into a three-ring binder. All of the Spanish language arts/reading TEKS for grades K–6 and the English Learner Language Arts (ELLA) for grades 7–8 are captured in their own charts. These charts can be used to highlight TEKS by unit or reporting category or be used to easily examine vertical alignment. Available for kindergarten—grade 6 and ELLA grades 7–8. Set of 10 for $20. ORDER ONLINE
---
THINKING PADS: SUPPORTING COMPREHENSION IN THE PRIMARY GRADES, SPANISH
Development of metacognitive strategies for future reading success.
Thinking Pads are designed to support teachers in scaffolding their students' reading comprehension. The instructional routines are designed to encourage student engagement in whole-and-small-group settings with a kit that includes 8 different functional graphic organizers that frame student-to-text interactions. $150 per version. ORDER ONLINE
CLOSING THE DISTANCE
A review that actually reviews!
Looking for an intervention resource that has more substance than a collection of practice problems? Looking to have your students talk about the mathematics they know and that they need to remember? This resource is for you! Each of the ten 5E sequences of activities is designed to get your students thinking and talking while self-assessing and reflecting on their understanding. Each 5E sequence includes a pre-assessment and small-group intervention frameworks so that you and your students can gauge what mathematics needs a refresh.
Available in Spanish for Grade 5, with grades 3 and 4 coming soon.
$75 per grade level.
ORDER ONLINE
Download a sample
---
MATHEMATICS STAAR® WORKSTATIONS
A short playlist of activities to complement your workstations library.
Used and reused your workstations library of activities? With each volume, you can add 8 sets of workstation activities to your library. Each volume is its own review playlist of mathematics TEKS that continue to present learning challenges. Each set of workstation activities includes a content review, a literacy component, and a sample test item at the rigor of STAAR. Each workstation fits within a file folder and is designed so students can check their own work to monitor their understanding.
Available in Spanish for Grades 3-5. $35 per volume and grade level.
ORDER ONLINE
---
ENGAGING MATHEMATICS, VOLUME II
Warming up, working collaboratively, supporting retention, or formatively assessing - your choice!
An excellent fit for any phase of your lesson! Over 90 engaging activities offer students opportunities to show the mathematics that they know and understand. While they work, you can listen to learn what they know, what they are still learning, and what academic language they use with ease.
Available in Spanish for Grades 2-5.
$75 per grade level.
---
WARM UP TO SCIENCE: TEKS-BASED ENGAGEMENT ACTIVITIES
A formative assessment item for every student expectation, and then some.
The perfect fit for any lesson, these warm-ups can be used at the beginning, middle, or end of a lesson to check for understanding. Warm Up to Science saves you time, allowing you to focus on understanding what your students know. Pique their interest, cause them ask to why, and make them want to learn more! Discover what they know, listen for misconceptions, and informally assess their levels of knowledge all on the sly. Your students won't even realize they're working! $75 per grade level. Available for Grade 3, Grade 4, and Grade 5. ORDER ONLINE
---
STAAR® REVIEW TO GO
A set of student-centered, engaging review activities. Just Say "Yes" to Riveting, Rigorous Review! This is STAAR review in a nutshell—or in this case, a folder.
Stop using released items as content review. Saying "Yes!" means students will race to review because these activities involve engaging brain exercise, deep dive discussion, and hands-on hustle as students work to fine-tune their knowledge and show off what they have learned. Each folder activity includes content review, a literacy piece, and a sample test item at the rigor of STAAR. Folders are designed so students can check their own work to monitor their learning.
Available in Spanish for Grade 5. $75 per volume. ORDER ONLINE. Download samples here: Volume 1 | Volume 2