It's Easier to Close the Educational Gap if it Never Exists to Begin With
View upcoming professional learning workshops here.
---

EMERGENT READER SERIES
Informational Text—Six books that focus on day-to-day routine school experiences. For reinforcement of each routine, the kit includes 23 guided practice cards and 23 reproducible take-home mini-books that support young students in learning about various school routines. $50 per version. English: 501-1573 | Spanish: 501-1657
---
LETTER KNOWLEDGE MANIPULATIVE KIT - NEW!
Tools to deepen emergent readers' letter knowledge
This supplemental resource can be used for teaching letter knowledge in small groups. This kit is appropriate for use with emergent readers of any age who need additional support in letter identification, letter-sound correspondences, and letter formation. $100. ORDER ONLINE
---
TARGETED READING INTERVENTION
Accelerate the learning of young students struggling to read.
This intervention program offers a complete curriculum with 6 weeks of teacherready lessons suitable for Tier II or Tier III intervention. Each grade level is designed to accelerate the learning of students who are struggling with their reading and contains student books and multisensory intervention activities. Available for Kindergarten, First Grade, and Second Grade. $625 per grade level.
---
TARGETED READING INTERVENTION FIRST GRADE—EMERGENT READER BOOKS
Designed for first-grade emergent readers, these 21 high-interest books can be used to supplement the Targeted Reading Instruction for Grade 1 (listed above) or as part of small-group instruction to develop reading ability. This set includes six copies of each title. $300. ORDER ONLINE
---
BIG ACTIVITIES FOR SMALL GROUP LITERACY INSTRUCTION
Cross-curricular connections for literacy development.
This collection provides the tools to revive small-group reading instruction. Each nonfiction title was developed to promote necessary literacy skills while supporting cross-curricular connections in science, social studies, and mathematics. $500. ORDER ONLINE
---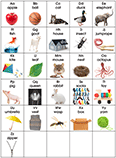 ALPHABET POSTER AND CHARTS SET
Tool for supporting letter names and sounds.
This resource serves as a tool for teaching letter names and sounds to support students on their journey in becoming successful readers and writers. This set can be used for whole-group, small-group, and individual literacy instruction. $30 each. Order online: English| Spanish
---
BEGINNING SOUND MATS AND PICTURE CARDS
Promote knowledge of letter-sound connections with sorting mats for each letter.
Use this kit to help students learn to make letter–sound connections by sorting pictures by their beginning sound. Each letter of the alphabet is represented in the kit. These materials can be used for small-group instruction or as practice activities in centers. Beginning Sound Mats and Picture Cards are available in English or Spanish. $70. Order in English or Spanish
---
THINKING PADS: SUPPORTING COMPREHENSION IN THE PRIMARY GRADES
Development of metacognitive strategies for future reading success.
Thinking Pads are designed to support teachers in scaffolding their students' reading comprehension. The instructional routines are designed to encourage student engagement in whole- and small-group settings with a kit that includes eight different functional graphic organizers that frame student-to-text interactions. $150 per version. Order in English or Spanish.