For more information, e-mail reading@esc4.net or call 713.744.4457.
---
STELLAR

STAAR preparation series for English Language Arts
Each STELLAR volume consists of four units that incorporate thematically linked, multigenre texts that encourage inquiry, discussion, and ongoing reflection.STELLAR is carefully crafted to provide big-picture ideas in the form of essential unit questions, thematically paired passages, and assessments based on these passages.

There are five strands of instructional skills outlined in the TEKS: reading, writing, oral and written conventions, research, and listening and speaking. Additionally, the assessments measure a student's level of performance on clearly defined Texas standards, objectives, and skills. $50 per grade level.
Download free sample pages using the links below:
---
STELLAR Essay Writing
Explore multigenre modules linked to seamlessly align with high school writing assessments
Each module is crafted to inspire inquiry, discussion, and ongoing reflection, offering added-value enrichments through technology, research, listening, and speaking. STELLAR Essay Writing provides relevant scaffolding options for diverse learners and includes suggestions for extensions that support authentic writing experiences. $100 per copy.
---
Show Me How—Using Mentor Text to Guide Readers and Writers
Powerful first-time reading and writing instruction for critical testing years
Show Me How is a series of instructional units that connect the interrelated roles of reading and writing across multiple genres and modes. The instructional activities follow the gradual release of responsibility framework in the context of a reading and writing workshop environment. Lessons are divided by genre into units that teachers can use as a starting point or a complete unit of study. Each edition of Show Me How includes mentor texts, a teacher manual, and a CD with all student materials. $350 per grade-level kit.
Download sample pages using the links below:
Learn how to use this resource online! Register for the Grades 3–5 course here.
---
This kit is designed to inspire and encourage young readers into learning how nonfiction books are structured. Each nonfiction book, written at the second-grade reading level, spotlights several examples of nonfiction writing. Teachers receive six packs of eight nonfiction titles, a teacher's manual supporting student engagement, and an interactive CD-ROM to review the features of each nonfiction text. $350 per kit.
---
Pathways to Reading Comprehension
This guide provides instructional targets in the areas of phonological awareness, word analysis, fluency, vocabulary, and comprehension. It features a continuum on the development of each skill that provides guidance on where to begin instruction and how to build toward effective reading comprehension. $20 for a set of 5.
---
Early Literacy


Emergent Reader Series
Vocabulary—A collection of books intended to introduce more sophisticated vocabulary for common words. Interest in learning new ways to say common words is fostered as young readers engage with patterned text, appealing graphics, and colorful photographs. $40 per version. English: 501-1571 | Spanish: 501-1659
Informational Text—Six books that focus on day-to-day routine school experiences. For reinforcement of each routine, the kit includes 23 guided practice cards and 23 reproducible take-home mini-books that support young students in learning about various school routines. $50 per version. English: 501-1573 | Spanish: 501-1657
Concept of Print—Six books for small-group modeling and instruction. Each book will concentrate on a specific concept of print. The concepts of print highlighted in the series are left-to-right directionality, return sweep, one-to-one speech-to-print matching, concept of a letter, concept of a word, and punctuation. $30 per version. English: 501-1555 | Spanish: 501-1658
---
Big Activities for Small-Group Literacy Instruction: Level One (Grades K–2)
This collection provides the tools to revive small-group reading instruction. The kit includes six nonfiction book titles: six lapbooks for use during shared reading along with six corresponding student-size books for each title, which are perfect for guided reading. Each nonfiction title was developed to promote necessary literacy skills while supporting cross-curricular connections in science, social studies, and mathematics. Additionally, this kit includes an abundance of multisensory literacy activities, such as engaging comprehension gameboards, interactive workboards, vocabulary development sorts, and a teacher's guide with reproducible extension activities for independent practice.
$500 per kit.
---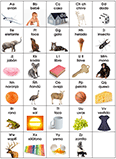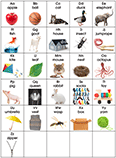 Alphabet Posters and Charts Set
This resource serves as a tool for teaching letter names and sounds to support students on their journey to becoming successful readers and writers. Each set consists of one 22" X 17" alphabet poster and 20 individual student alphabet charts and can be used for whole-group, small-group, or individual literacy instruction. $30 per version.
English: 501-1884 | Spanish: 501-1885
---
Thinking Pads: Supporting Comprehension in the Primary Grades
This uniquely structured kit challenges active young readers to move beyond decoding to reflection to transactive reading.Thinking Pads are functional graphic organizers that frame student-to-text interactions. Each kit includes lessons to encourage student engagement in whole- and small-group settings and rubrics for assessment, eight Teacher Modeling Cards to assist teacher instruction, and 40 Thinking Pads (eight different strategies, packs of five each) to promote independent student thinking and responses to text. $150 per version.
English: 501-1541 | Spanish: 501-1660
---
Home Connection Readers
A collection of consumable books for emergent readers that includes 50 copies of six titles in English. Home Connection Readerbooks promote early literacy skills by design. The books contain simple sentence structures, ample picture support, and high-frequency words to promote strategic reading from the start. $100 per set.
English: 501-1533 | Spanish: 501-1532
---
For resources in other subject areas, follow the links below: