Region 4 provides professional development opportunities and technical assistance for districts and charter schools who serve students with deafblindness. Region 4 provides parent workshops in the area of deafblindness to assist parents in addressing the unique needs of their children.
---
Special Announcement
Cecilia Robinson Presented Marty Murrell Excellence in Education Award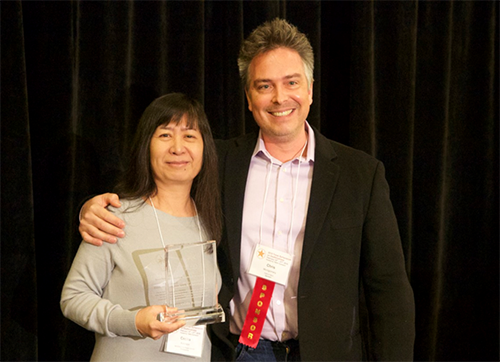 Cecilia Robinson, Region 4 Education Specialist, was presented the Marty Murrell Excellence in Education Award at the recent Deafblind Symposium in Austin. The award is given to an education professional who has made a long-term commitment to excellence in education for Texas students with deafblindness. Cecilia is pictured with Chris Montgomery, Education Consultant from TSBVI Outreach.
---
Helpful Resources:
Registration for professional development is available on-line through the Region 4 eCatalog.
Contacts:
Cecilia Robinson
713.744.6379
cecilia.robinson@esc4.net

Sheryl Sokoloski
713.744.6315
sheryl.sokoloski@esc4.net

Kelley Watt
713.744.6363
kelley.watt@esc4.net