The following products were designed to specifically meet the unique needs of students in the Bilingual or ESL classroom. Click on the product ID numbers to order online at www.region4store.com.

---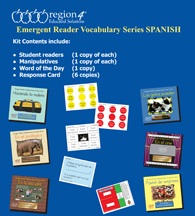 Emergent Reader Vocabulary Series
A collection of books intended to introduce more sophisticated vocabulary for common words. Interest in learning new ways to say common words is fostered as young readers engage with patterned text, appealing graphics, and colorful photographs. Each book and accompanying activity adds to the vocabulary of young children by making connections to known words. New words are reinforced and reviewed through playful, interactive follow-up. $40 per kit.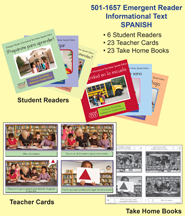 Emergent Reader Informational Text Series
Six books that focus on day-to-day routine school experiences. For reinforcement of each routine, the kit includes 23 Guided Practice Cards and 23 reproducible take-home Mini-Books that support young students in learning about various school routines. Features for informational text, such as table of contents, headings, labels, captions, charts, tables, and diagrams, are included in each book. The inside front cover provides a framework of teacher support with C.P.R.: ways to communicate, practice, and reinforce routines in the classroom. The take-home Mini-Books allow for student self-assessment on each routine and can be sent home to reinforce learning. $50 per kit.
Emergent Reader Concept of Print Series
Six books for small-group modeling and instruction. Each book will concentrate on a specific concept of print. The concepts of print highlighted in the series are left-to-right directionality, return sweep, one-to-one speech-to-print matching, concept of a letter, concept of a word, and punctuation. The books will have support structures and/or manipulatives to focus attention on print conventions and to encourage correct responding ideas for supporting and reinforcing the concept will be included on the inside of each book cover. $30 per kit.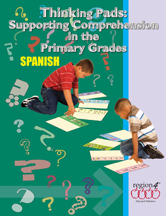 Thinking Pads: Supporting Comprehension in the Primary Grades
Designed to support teachers in scaffolding their students' reading comprehension. Kit includes: Teacher's Manual; 8 Teacher Modeling Cards to assist teacher instruction; 40 Thinking pads to promote independent student thinking and responses to text. $150 per kit.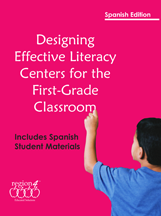 Designing Effective Literacy Centers for the Classroom (Kit & Booklet)
This kit contains different materials teachers need to design and construct literacy centers appropriate for the classroom. An instructional booklet with directions on how to set up each center, how to teach students to use the center, and how to evaluate student work is included. $75 each